Since the co-op's establishment, board members have been democratically elected by the cooperative's membership. The election process begins when the board appoints a nominating committee at the August board meeting. This committee consists of one representative from each of the co-op's nine districts. Their task is to select two representatives to be placed on the ballot for each district that is up for election. 
In 2022, Districts 4, 5, and 6 are up for election. Trustee Interest Cards were mailed in October to all members residing in these districts. Interested in learning more about becoming a trustee? Please fill out and return the trustee interest card to the co-op's attorney (a pre-addressed envelope is included with the interest card mailing) by November 30, 2021.
Members who are interested in running for the board are invited to complete and return the interest cards. Each interested member who returns a card is mailed a Trustee Nomination Information Sheet to be sent back by mid-December. In January, an interview session will be held for all potential candidates.
After that meeting, the nominating committee will select two nominees for each district up for election. In March, members will be asked to submit ballots by mail or online to elect trustees.
Trustee Districts 4, 5, & 6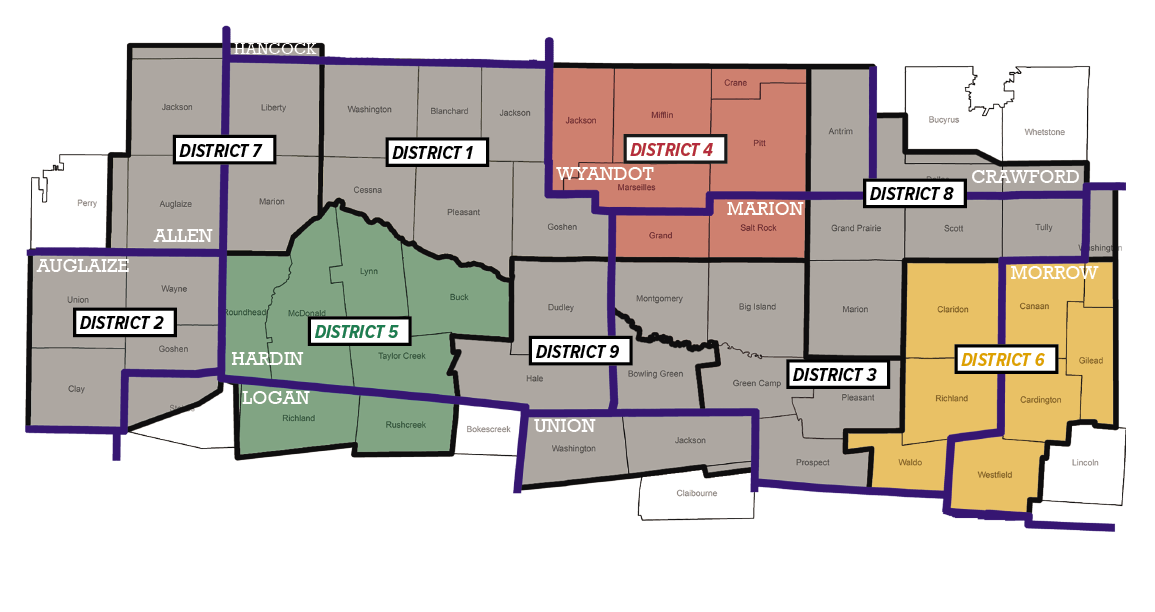 The principle of "democratic member control" means you have a voice in the operation of your cooperative. Members receive capital credit dividends, vote on trustees and other important issues, and can play a larger role by serving as a co-op trustee. 
Mid-Ohio Energy Cooperative is governed by a nine member board of trustees. The board meets monthly to decide policies, review cooperative business and activities, and make decisions affecting the entire cooperative. It also approves contracts, reviews operations, and approves all payments of patronage capital.
The cooperative's territory covers portions of 10 counties and is divided into nine districts. Each of the nine districts is represented by a board member. Every year, three board members are elected by and from the membership to serve a three-year term. There is no limit to the number of terms a trustee can be elected to serve. All trustees are members of the cooperative and must receive service in the district they represent. Trustees cannot be employed or financially interested in a competing enterprise or business selling electric energy or supplies to the cooperative or a business primarily engaged in selling electrical appliances, fixtures, or supplies to cooperative members.
Learn more about Mid-Ohio Energy's Board of Trustees