A crowd of approximately 350 members and individuals from the community recently gathered in the warehouse of the co-op's Kenton office for an evening of fellowship, refreshments, giveaways, and a cooperative update.
All members in attendance received a $10 'meeting attendance' energy credit, a reusable insulated bag containing meeting documents and giveaways including: a LED light multi-tool, pen, steam-in container, and LED bulb. Upon registering, all members in attendance were also entered into a special drawing for annual meeting door prizes. Members who viewed the meeting online were also able to submit a webform to receive the $10 meeting attendance energy credit.
During the meeting, the results of the trustee election (conducted by mail and online balloting) were announced by attorney Tom Seeley. Incumbent trustees Dan Harris (D4), Howard Lyle (D5), and Paul Beineke (D6) were each re-elected to represent their district for a three-year term.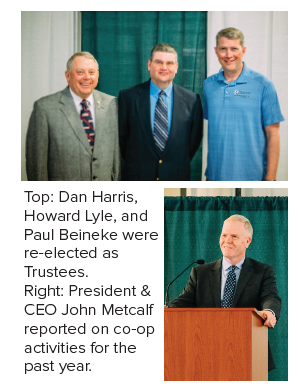 Upon registering, members received a $10 energy credit, were treated to local selections of cookies and ice cream, and were entered to win door prizes touting the benefits of electric tools and appliences. The featured door prize was an electric yard tool kit (40V battery with pole saw, edging, string trimmer, and blower attachments) and went to Robert Kritzler of Kenton. See below for the full list of door prize winners.
President & CEO John Metcalf presented the management report and spoke on a number of issues the co-op is currently working on and/or monitoring, including public power policy, rural broadband, pole attachments, renewables, and supply chain restrictions.
Other business conducted during the meeting included a video update on the Mid-Ohio Energy Community Fund and recognition of this year's scholarship award winners.
The meeting was also offered as a livestream and archived online for viewing by members who couldn't attend.
Mid-Ohio Energy thanks all members who attended or viewed the meeting online for your interest and participation in your cooperative. We look forward to seeing you again soon!
Congratulations to the 2022 Annual Meeting Door Prize Winners!
Ryobi 40V battery with yard tool kit: Robert Kritzler
Ninja Foodi 11-in-1 appliance: William Alley
Electric smoker: Richard Cummins 
 
$50 energy credits were won by: Dennis Thiel, Melissa Overs, David Sturgeon, Tony Sherman, Robert Bigelow
$75 energy credits were won by: Steve Myers, Gladys Lucas, Rhinehart Church, Glen Hanson, Dwight Comstock
$100 energy credits were won by:  John Stephen Lee, Bonnie Born, Russell Cahill, David Zaring, Franklin Bumgarner
$100 VISA card winners were: Kenneth Thiel, Melinda McConnell, Melissa Beltz, Tom Ralston, Alvie Rapp, and Sheldon McKinniss.